Seabed Surveillance and Underwater Structures Inspection with Remotely Operated Vehicle − Power Ray
Keywords:
Aquaculture, Biosecurity, Seabed, Inshore inspection, Pipeline, Underwater drone
Abstract
The marine ecosystem is necessary to be monitored as it is exposed to externalities and pollutants that affect biodiversity and the state of the underwater structures. There is a demand for a better, more dynamic, and safe monitoring approach to underwater research and inspection. The unmanned underwater vehicles are becoming a reachable and intuitive tool for underwater inspection, such as for the inspection of the marine hull of vessels, bridges, foundations, piers, pylons, and other support structures in ports. The main advantage of the use of the remotely operated underwater drone is cost and time-efficiency, as they allow to obtain information in a fast and safe way in real-time. In this paper we investigate the possibility of the use of a remotely operated underwater drone Power Ray for seabed observation and underwater structures inspection. It describes the re-sults of the field research collected from the use of low-cost underwater drone Power Ray. The data collected with an underwater drone presents footages of different underwater structures and areas in order to document the seabed state and underwater structures. Additionally, this article provides an overview of the problems in underwater inspection and monitoring, and possibilities offered by remotely operated vehicle Power Ray in solv-ing them. The results of the paper are not unique to working with a low-cost drone, but are illustrative of the challenges and problems that new users are likely to encounter when using this technology.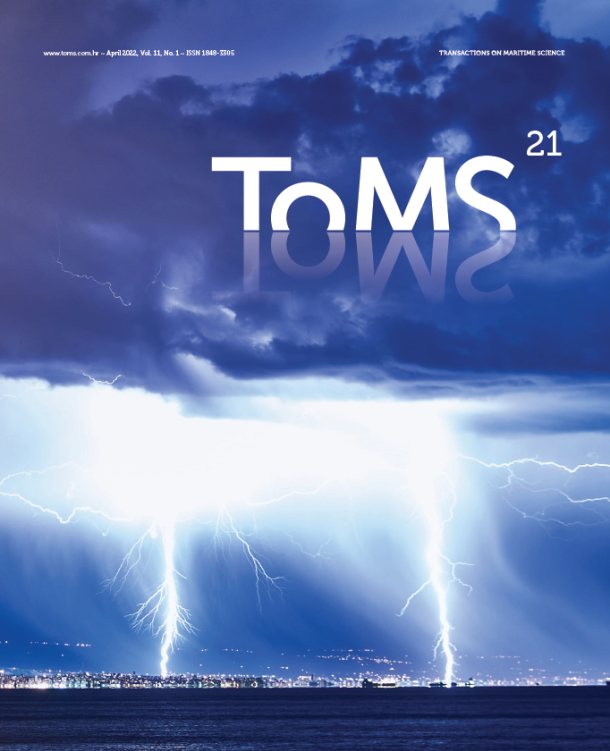 Downloads
How to Cite
Lorenčič, V. (2022) "Seabed Surveillance and Underwater Structures Inspection with Remotely Operated Vehicle − Power Ray", Transactions on Maritime Science. Split, Croatia, 11(1), pp. 110–118. doi: 10.7225/toms.v11.n01.w07.
License
Copyright (c) 2022 Transactions on Maritime Science
This work is licensed under a Creative Commons Attribution 4.0 International License.