Heavy Metal Content Analysis and Toxicity Assessment of Oil-Based Drilling Mud using Zebrafish Embryos
Keywords:
Oil-based drilling muds, Heavy metal, Toxicity, Zebrafish embryo, Embryotoxicity, Teratogenicity
Abstract
Aim: Used oil-based drilling muds (OBDMs) are toxic to marine organisms due to the fluid's complex chemical nature. The illegal dumping of used OBDMs is still rampant in many parts of the world despite of the stringent laws and regulations pertaining to its disposal. To date, study of the assessment of heavy metal content in used OBDMs from the Malaysian oil and gas industry has been limited. Furthermore, the study of the toxic effect of OBDMs using a zebrafish embryo model has never been reported before. Therefore, in this research, the used oil-based drilling muds (OBDMs) were analyzed for their heavy metal content and toxicity against Zebrafish embryos. Methods: Used OBDMs were collected from an Anchor Handling Tug Supply (AHTS) vessel mud tank from Kemaman, Terengganu. The heavy metal content in the mud was analyzed using ICP-AES. Zebrafish embryos were exposed to OBDMs of varying concentrations (i.e., 0.25 mg/ml, 0.125 mg/ml, 0.06 mg/ml, 0.03 mg/ml, 0.015 mg/ml, 0.0076 mg/ml, 0.0034 mg/ml and 0.0019 mg/ml). The toxicity and teratogenicity of the mud on zebrafish embryos were assessed every 24 hours, for 96 hours, using endpoints like embryo mortality, heart rate and hatching rate. Results: The heavy metal content of used OBDMs had the highest concentration of barium (Ba) 2360 ppm, followed by lead (Pb) 120 ppm, zinc (Zn) 104 ppm, arsenic (As) 9 ppm, and chromium (Cr) 16 ppm, with cadmium (Cd) concentration of less than 1 ppm being the lowest. The Ba (2360 mg/L) concentration in the OBDM sample exceeded the concentration of Ba in normal marine sediment reported to be around 2000 mg/L. The 96 h LC50 of the OBDM in zebrafish embryos was reported to be 0.005 mg/mL (5 ppm). Zebrafish embryos that were exposed to high concentrations of OBDMs exhibited a lower hatching rate and reduced heart rate than the control group. Conclusion: The findings of this study are indicative of the highly toxic nature of used OBDMs and its dosage-dependent teratogenicity effects on zebrafish embryo. Knowledge of the potential environmental impacts of OBDMs released into the marine environment can be the basis for prudent decision-making that will help minimize environmental damage.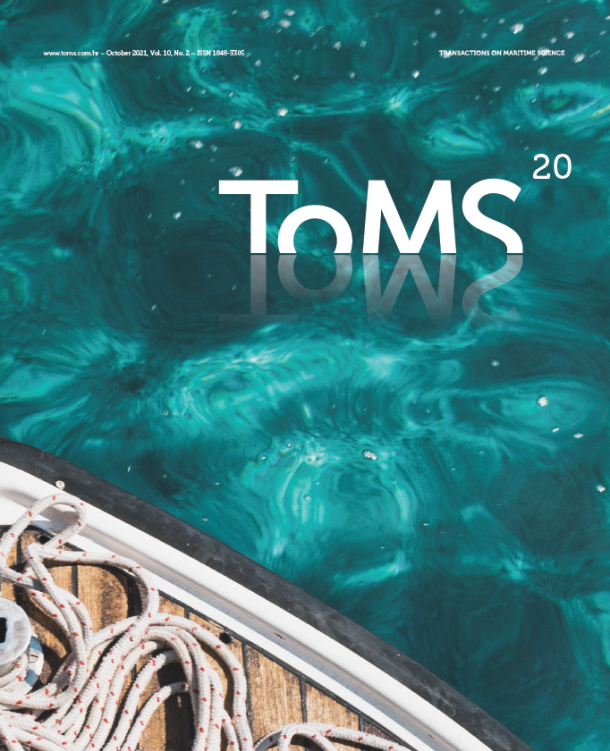 Downloads
How to Cite
Sridewi, N., Nurbariah, S. and Ahmad, S. (2021) "Heavy Metal Content Analysis and Toxicity Assessment of Oil-Based Drilling Mud using Zebrafish Embryos", Transactions on Maritime Science. Split, Croatia, 10(2), pp. 390–395. doi: 10.7225/toms.v10.n02.w06.
License
Copyright (c) 2021 Transactions on Maritime Science
This work is licensed under a Creative Commons Attribution 4.0 International License.