Analysis of Traffic Accident Dynamics at Semaphored Crossroads – a Case Study
Tatjana Stanivuk

University of Split, Faculty of Maritime Studies

Mimo Drašković

University of Montenegro, Faculty of Maritime Studies

Neven Kralj

Standing Court Expert
Keywords:
Dynamics of traffic accident, Vehicles, Crash simulation, Time intervals
Abstract
The paper deals with the analysis of dynamics of a traffic accident involving two vehicles and having happened at the semaphored crossroads in the afternoon hours i.e. when the traffic lights at the crossroads were functioning according to the programmed system and on the second programme. To prove the causes of the traffic accident, in analysing all the possible variants of the participants' motions through the semaphored crossroads, the 3D display was also used. The value of EES (Energy Equivalent Speed) represents the starting parameter for calculation of vehicle's speed in the instant of crash. Since the dynamics, or better to say motion of the participants in the traffic accident depends on properly working traffic lights, it is of great importance to present the work schedule of the traffic lights of the mentioned intersection, before we analyse the traffic accident itself. The control of all the results gained was carried out using computer programme package PC Crash 9.0 to simulate the crash. Great attention was also paid to the time intervals of vehicles' motions. Also, the possibility of having avoided the accident in question was analysed.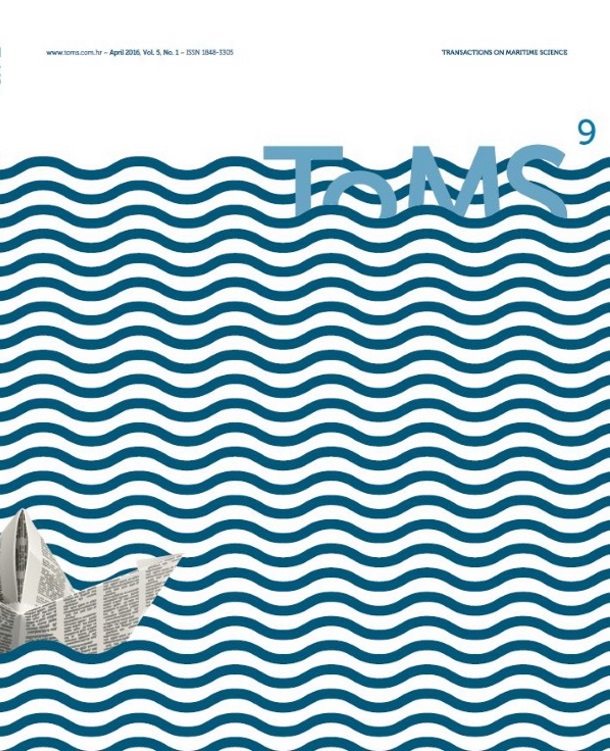 How to Cite
Stanivuk, T., Drašković, M. and Kralj, N. (2016) "Analysis of Traffic Accident Dynamics at Semaphored Crossroads – a Case Study", Transactions on Maritime Science, 5(1), pp. 11 - 18. doi: 10.7225/toms.v05.n01.002.